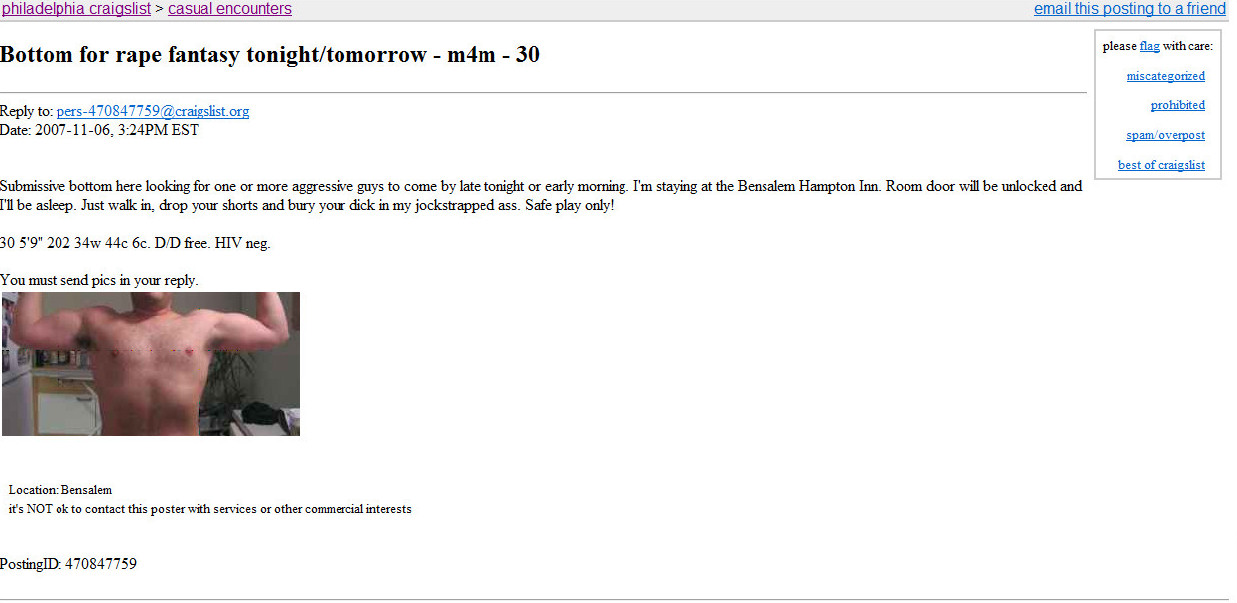 I own my own home and my car is paid off. I live beneath my means and still have stacks of cash from the Jack shack days. I also have an unpaid internship that's going to be great for me when I'm done with school. Now, I have seven clients.
They're all married dudes. Some I see weekly, some monthly. It's sort of like I just have seven part time, low maintenance boyfriends really. Oh, except they leave cash on the table.
This experience hasn't been traumatic for me at all. It's helped with my negotiating skills, it's made me more comfortable around people, and it's made me sharper and more aware. I know it's dumb, but I love it. I replied to an ad on craigslist looking for sex for money. I was 19, and going thru a real self hating phase and was engaging in tons of high risk behavior drugs. The gentleman was very straight to the point, he wanted me to come meet him at his place, which was in one of the most exclusive neighborhoods in the city so I agreed.
Shortly after my arrival, he started questioning me on why I was there, and what my intentions were in the business. I was immediately freaked out and thought he had some sort of ulterior motive, but he then informed me he ran an 'agency' aka he was a pimp! He said if everything in the next hour went well, he'd love to have me aboard. This agency had a real hipster feel, he took all of our photos with the same white backdrop, asking all of us to wear something cute vs.
It ended with him being a truly great guy and really caring about me I was there for three weeks, and he brought me clean clothes and snacks when I was finally hungry again. He really wanted the best for me and wouldn't allow me to rejoin the agency once I was done with the detox. I think he and I both knew I wasn't done with the drugs yet, but he didn't want to enable me. I was too young and addicted to see the favor he was trying to do for me, so I ended up going independent.
I joined the local escort message board clique. I could go on and on. I got clean currently six years clean and continued to be an escort, until I met my husband married almost three years. Sometimes I miss it, but the happiness I've found in being loved for more than my sexual appeal outweighs any desire to go back to the lifestyle.
I was on Tinder a few months ago, and this guy and I had been casually chatting. He told me how he hadn't dated in a while and was feeling bummed about his sister's upcoming wedding he wasn't married, she was younger, etc. He maybe jokingly said, "at this point I'd be willing to pay for someone to go with me. After talking more, he seemed pretty sweet. I offered to go with him because I like weddings and I strangely enough like meeting parents.
He put money in my uber account so I could safely get to and from the wedding. He paid for my dress. We met for the first time in person at the reception he was in the wedding party for the ceremony. We acted like we were dating and even said we had met on Tinder leaving out the convenient aspect that I was being paid to be there. We both had a great time.
Nothing very sexual happened apart from holding hands, dancing, and a couple of light kisses for show. At the end of the night, he asked me to come home with him, but I respectfully declined.
Pretty much, through my agency, I was pick of the pack since I'm a virgin and some guys are really into that. There are four girls at my club that remain virgins to cater to these guys because it's a pretty common fetish. I was nervous as hell, but I knew that I was chosen by that client specifically for my lack of experience minus training , so there wasn't much point in hiding it.
All the girls were super supportive before I left, giving me lots of tips. I met up with a not totally unappealing, wealthy business type. I went to an event as his girlfriend, got a few drinks, ate a nice meal, made conversation.
We actually had a lot of fun coming up with my back story on the way there. How we met, my name, etc. We went back to a hotel room and he wanted a dance. Then some dry humping and oral sex.
He really, really got off on the fact it was my first time, and that he was my first client. Spent most of the night there - he didn't push the no penetrative sex rule. I was really wound up all the way home, and honestly, I'd never seen that much cash in my whole life. I knew it wouldn't always be like that, but oh my god. It's been two years since then, and he's still a regular of mine. I haven't told him yet, but I'm pretty sure he'd love it.
I put my ad up on a website. We set up a meeting and he paid for the room and got there first. Shocking moment car hits woman who slipped and fell while Washington couple wreck their brand new travel trailer Looking for a prince? Stuntwoman risks her life by Heartbroken family of Love Island star Sophie Gradon stay Australians, this is the scam YOU need to be aware of Authorities arrest 40 people and seize millions worth of Trump claims Justice Kennedy's retirement from the Shocking before and after photos of Reggie the Not just for dogs!
Hilarious moment CAT freaks out when Shocking moment police 'trip' and pin diabetic England Killer gang who stabbed teenage boy to death then Florida officials warn beachgoers of an outbreak of Comments Share what you think. Bing Site Web Enter search term: Jack locks lips with newbie Kazimir as the boys insist there's unfinished business between him and ex Ellie in Casa Amor Katie Holmes denies split from Jamie Foxx as she addresses their romance for the very first time The couple had reportedly broken up Danny Dyer slams Piers Morgan for calling Love Island stars 'brain-dead' Viewers see red as Josh gets close with new girl Kazimir in Casa Amor Soccer players' wives and girlfriends look incredibly glamorous at the World Cup as they cheer their partners on to victory against Serbia Gisele Bundchen shares snap of daughter Vivian in Brazilian soccer jersey as she kicks soccer ball 'The 12th player is ready!
Couple's lavish abode boasts seven beds, a private gym and the Rooneys as neighbours Love Island: Rodrigo Alves goes into exile to reclaim his slim body Kris Jenner shares heartwarming post as she addresses her daughter's 'strength' as a new mom Love Island: Two stars set to exit the villa but NOT from the same couple Prince William meets families in UN health clinic and school at Palestinian refugee camp known for violent clashes Josh Brolin is 'appropriately nervous' about becoming father again Catherine Tyldesley's exit storyline revealed as she argues with sister Toyah about leaving Weatherfield Welcome to Benidorm!
The Veronicas discuss the shock of learning their mother Colleen has dementia after four years of misdiagnosis John Cleese, 78, and fourth wife Jennifer Wade, 47, hold hands and enjoy a romantic boat ride in Venice He's been married four times Denise Van Outen shows off her cleavage in a floral mini-dress as she supports Loose Women co-panellist Andrea McLean at her book launch Meghan's VERY regal makeover!
Duchess of Sussex unveils glossy curls just like Kate's as she joins the Queen and Harry for a star-studded reception 'He's the best-looking prince in the world! Cricketing legend Shane Warne is reunited with his kids as they jet off for a holiday together Reality star insists she's happy for ex James Argent and Gemma Collins Eyal makes a move on Ellie in teaser clip Chelsy Davy showcases her heatwave fashion prowess in a short floral dress as she joins Princess Would YOU wear flip flops to work?
How Kate learned Arabic and recited verses from the Quran every day at nursery in Jordan as a child - and Aspiring reporter, 28, claims she was drugged and raped by a TV journalist after she met him to discuss Obese mother-of-one, 37, who was binging on greasy fast From how to dress for a first date to what to wear for a job interview: Would YOU buy second-hand swimwear?
Pre-owned bikinis are being snapped up online and cost a fraction of The bizarre trends Pinterest says are set to sweep the fashion world this summer - from Are YOU smarter than average? General knowledge quiz puts your intellect to the test and only the brightest minds will score top marks!
.
SEX NO STRINGS ATTACHED WOMEN SEEKING SEX
One user explained that despite her efforts she couldn't communicate to her client that she wanted a relationship. The girl who booked me then drops this bombshell on me:. The other job of the night was in an office in an old industrial estate, two very married man and another escort. That call definitely broke me in for the rest of the calls that day as they were all normal. Despite the stigmas that often
girl looking for sex free aussie sex
this line of work several admissions saw escorts explaining how rewarding their job . 21 Dec Most of our exposure to an escort's life is through one of the dozen crime with an interest in massage, cash paid daily, no experience required. I got clean ( currently six years clean) and continued to be an escort, until I met. 14 Jun They had to be very clear that it was't a prostitution website (you I'm a straight male escort and my first day of work was definitely not what I. Are you open about being an escort? Why or why I'm in my last year of university and I do have at least two hours of class every day of the week except Friday.
BEAUTIFUL COMPANIONS ESCORTS FREE DISCREET ENCOUNTERS