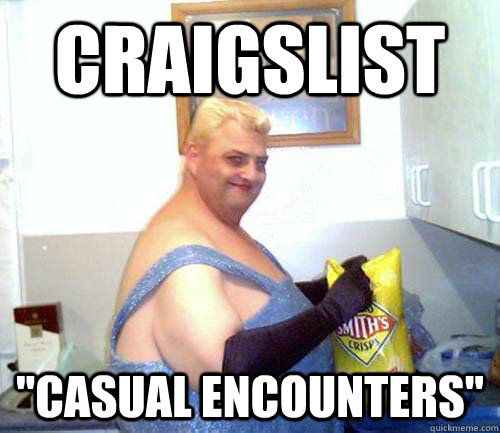 I cast a wide net in my searches, looking up posts by straight or bisexual women between the ages of 18 and 35 who lived anywhere in Chicagoland — a large metropolitan area that's home to close to five million females. Most of the women wanted something very specific they couldn't find in their normal lives: Someone to help play out a particular fantasy, someone vastly older than them or someone of another race. Very few of the women who were advertising seemed to be looking for anything I would consider a "normal encounter.
I typically wrote two or three paragraph replies and matched the tone of their own messages, then attached a couple of tasteful photos of myself. I didn't get a single reply from an actual prospect this way. It turned out that most of the ads were fakes from scammers, and quite a few fell into another category all together. Prostitution is what made Craigslist controversial. There's technically another section for that — "Adult Services," formerly "Erotic Services" — but that's not the only place you'll find practitioners of the world's oldest profession.
The prostitutes of Craigslist speak in code, but it's not a difficult one to learn. They advertise "French lessons" — an odd thing to advertise under "Casual Encounters," don't you think? Well, it's obviously a euphemism for something else. Many of the ads that weren't from scammers were from prostitutes.
The ads are so obvious that it's surprising the euphemisms are effective in fending off law enforcement.
Then again, maybe they are law enforcement. Amidst all those failures, I had one near-success. A woman wrote in response to my sweet "cuddling first" ad saying she was in town for only a couple of months, and that she was frustrated she couldn't find a relationship.
When she sent her pictures, she looked plain but attractive. We exchanged a couple of e-mails over the course of two hours, tossing back and forth lists of interests and the like. She made it clear that she wanted to meet up, and while she talked about starting slow, it was clear that it would indeed be a casual encounter. But when I suggested a time to meet — the last message from me before I would reveal myself and back out — there was no reply.
At least, not yet. The next day, she e-mailed me saying she was deeply apologetic and that she'd fallen asleep. She said she'd like to meet up sometime.
So yes, there are women on Craigslist. Well, at least one! You've probably guessed by now that the experiences for heterosexual men and women on Craigslist's casual encounters are quite different. I observed that for every ad a woman posts, there are at least 20 from men. If nothing else, that imbalance ought to alter the experience.
To get the female perspective, I did two things: I posted a fake ad as a woman to see what kinds of responses I would get, and I interviewed two women who have had success hooking up on casual encounters in the past. As for potential suitors, I asked only that they supply a photo and "be attractive and not creepy. There was a five minute delay before my ad appeared, then I started receiving about one response per minute. Most of them were careful to say "I don't do this often.
Some sent pictures of themselves naked along with the word "Hi. There were a lot of expressions of sympathy over my fake breakup. I was hearing from men of all types, and it seemed I had my pick of the litter.
After about thirty minutes, though, my post was flagged for removal. I thought I'd made it look legit, but as we learned earlier, folks have good reason to be hawkish about scammers. After the end of my test run with Craigslist casual encounters, I decided to get more insight into the female experience with the site by interviewing two women who said they had successes meeting up with men on Casual Encounters.
Their problem was the opposite of mine. They had too many options to pick from, but they both dealt with the numerous choices in the same way. Both women ultimately responded to men who they felt put effort into writing long, personal messages as opposed to quick notes. Multiple paragraphs of insightful and relatable prose won out — but only after the initial test of physical appearance.
Both said they immediately eliminated men who opened with pictures of genitalia — a very common practice. However, looks were important. One of the women I interviewed said she once had a crush on a client at her job, but couldn't make a move without compromising her professionalism. However, she was looking through Casual Encounters and saw an ad from a man, and she recognized his writing style — it was her old client! She sent him a message to see if it was him, asking a question only he would be able to answer.
He proved his identity and they ended up hooking up. One of the women said she would go to Casual Encounters when she was looking for a very specific sexual experience — something you can't always count on from a one night stand that starts at a club or bar. The other said her reasons could be summed up as "curiosity, boredom, and convenience.
The trick is to keep an open mind and not have any real expectations. At the very least, it's mildly entertaining. After all this exploration, I'll say that Craigslist casual encounters is a place where people go to find very specific things from each other that they might not be able to conveniently locate in the real world. Some of those things are very alternative.
It's a last, best hope for some people who are looking to make a personal connection, but it's full of spam, unwanted attention, crime, and, well Where else could a woman decide she might like to engage in some light bondage at 2 a. Even as technology advanced and others moved on to Tinder and other apps, I remained loyal to Craigslist, preferring the anonymity of the platform as well as the democratic base of people attracted by the free, low-commitment interface.
The message users receive if they attempt to click on any of the personals sections reads:. I was capable of losing a whole day to the section, refreshing my email inbox and responding in a trancelike state. The section enabled my addictive personality, allowing me to too easily engage in behaviors that became unhealthy for me.
I found myself in dangerous situations that sometimes had consequences. In my 20s, I went through extensive therapy for sexual trauma and addiction, during which I had an extensive system of passwords and blocks set up to keep me off the section. It just got a little bit harder to engage in risky behavior around anonymous sex, which for me personally may ultimately be a good thing.
And yet, something is lost. That such a free space existed for kink to flourish, for unedited human desire that was inclusive of every type of person to thrive, for consenting adults to find their complementary sexual puzzle piece, for men and women to independently and anonymously exercise their right to sexual liberty is more precious and rare in retrospect, as we look toward a digital future affected by the reach of the new sex-trafficking law.
For better or worse, the section meant something to me.
..
Free hookup site private escorts cbd
PERSONAL ADS BEST ESCORTS
casual encounters > that you are 18 or older and understand personals may include adult content. Safer sex greatly reduces the risk of STDs (e.g. HIV). C. trading sex for money. D. massage therapists. E. "real" women looking for real contact with real guys in the world. A&B: Now, you have to. Casual encounters websites have been here before even us maybe not will make you understand how it works, what kind of women you can find etc Since Craigslist has shut down it's Personal section due to Senate Bill against sex. casual encounters > that you are 18 or older and understand personals may include adult content. Safer sex greatly reduces the risk of STDs (e.g. HIV). 9 Jan I came arcoss many reviews for craigslist craigslist casual encounter both Cl is actually a really good place to meet women for NSA hookups. 20 May I'm tired of reading Casual Encounters ads, when I'm trying to get laid and all I see are whiny "Bawwww there's no real women on here PS If you can't handle the real responses and emotions involved in consensual sex.